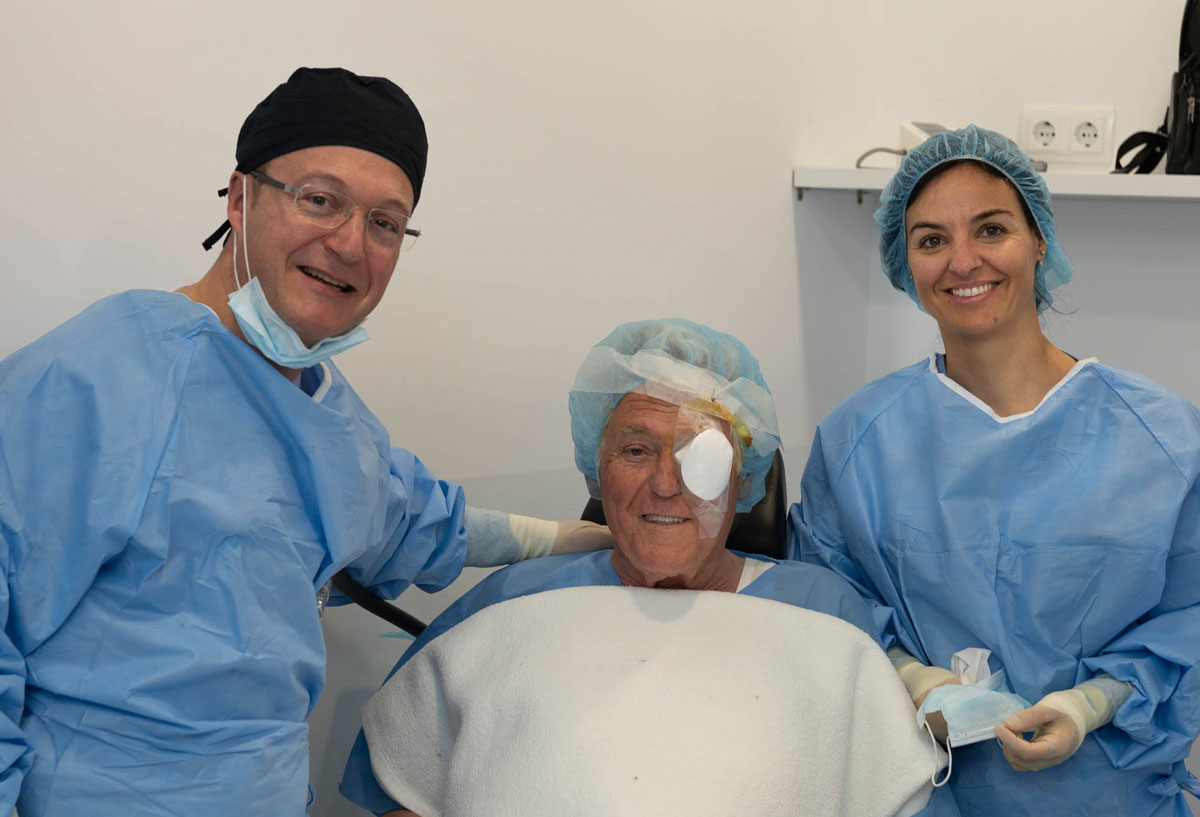 Would you like to send us your testimonial?
Write to us
"Can I express my thanks to Dr Ferrer and all of the team who recently carried out operation to remove a small cancerous lump very close to my eye, all of the team were extremely professional. Dr Ferrer is amazing and so caring, the premises are immaculate and systems in place to combat covid. Can not recommend them enough. Thank you!

Patricia Allen, Jávea
"My eye surgery was a total success!
I was already almost blind in one eye and couldn't take a step without glasses for over 30 years.
After the surgery, it's like I found a fountain of youth for my eyes. I can see perfectly! How good that Dr Ferrer was recommended to me: the operation and afterwards were completely painless and I received the best care.
Many thanks to the team!

Jutta Whitley
"As a patient of good German ophthalmologists and Dr Ferrer's practice, I believe I can make an objective judgement about the his work.

Apart from a well-organized practice with friendly, multilingual staff, Dr. Ferrer is also an excellent ophthalmologist, who knows all areas of ophthalmology through his competence and above all is always up to date and gives advanced training courses for ophthalmologists in Germany.

In addition to his friendliness and ability to explain complicated diagnoses in an understandable way, he always allows himself enough time to take good care of his patients.
I am very happy to be a patient of Dr. Ferrer.

Dr.Karl-Otto Steinbach
"I would like to express my sincere gratitude and appreciation to you and your entire team for my recently performed cataract eye surgery!

From the first consultation in your Moraira practice to the revision after my second operation in your Denia clinic I felt safe and secure at all times. I appreciate very much your patience in answering my many questions and for giving excellent advice on which lens to choose for my particular case. It was amazing to me that I never felt any discomfort or pain during the entire procedure, due to the skill of your anaesthesiologist!
Today, only five days after surgery on my second eye, I function already very well in all respects, be it walking, driving, reading or working on the computer, without having to wear any glasses. It is hard to describe how wonderful that feels!
Thank you again for doing such an excellent job!

Marlene Prentiss, Moraira

Cataract surgery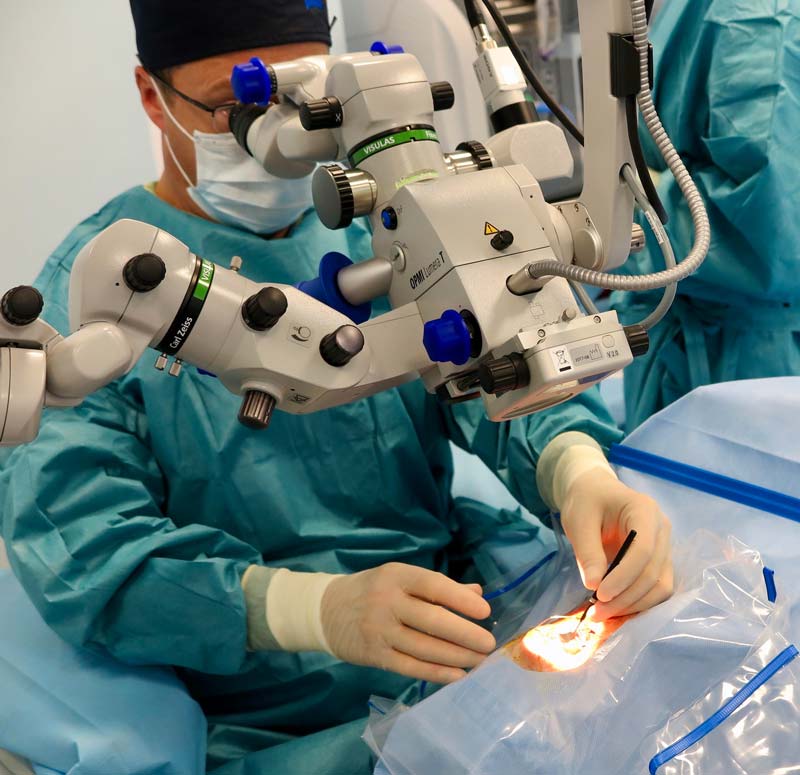 "At a recent visit my Optician was amazed at the rapid deterioration and increase in size of the cataract in my left eye and recommended me to go and see Dr. Alfredo Ferrer to discuss removal of the cataract and fitting of a replacement lens. I am so glad that I took the advice. Dr. Ferrer and all of his staff were extremely efficient, helpful, considerate and friendly and went to great lengths to explain the procedure and the options. Having made the decision everything was arranged both promptly and efficiently. The results are amazing and I have no hesitation whatsoever in recommending Dr. Ferrer and his team. I would like to thank them all for their courtesy, understanding and caring service throughout.

Grahame Henshaw

Cataract surgery
"I have recently undergone eye surgery by Dr Ferrer. I had very bad astigmatisms in both my eyes, wearing glasses and lenses since I was 18 I am now 52. After visiting three different eye surgeons in the UK I met with Dr Ferrer and his team in Spain. What a difference, they made me feel totally relaxed and went through the procedures and set no time limits on my consultation ensuring I fully under stood what I was undertaking. I can only thank the whole team for an amazing experience resulting in perfect eye sight after wearing lenses for 30 years. I am happy to be contacted through Dr Ferrer for anyone seriously thinking of using him and his team.

Charlie Reed

Astigmatism Surgery
"For some years I suffered from "Drooping Eyelids" a condition that was not only uncomfortable but was also severely restricting my vision. I had a consultation with Alfredo Ferrer who recommended a very simple corrective surgical proceedure. Following surgery, the effects were immediate, my vision had improved dramatically, and my drooping eyelids had been returned to normal. The time between consultation and surgery was one week. Mr. Ferrer is a highly accomplished Opthalmic Surgeon who readily, and in great detail, answered any questions I put to him. I would have no hesitation in recommending his knowledge, skills, and expertise to friends and family.

Gordon Clifford

Droopy Eyelids
"I just want to say a big thank you to you and your staff, for the marvellous treatment I received, both in your Moraira and Denia clinics. As soon as the treatment was finished I was able to see clearly straight away, and I have had no problem with my eye since. Many many thanks.

Ron Davis

Eye Treatment
"I recently had the new Smile laser technique and I am so pleased I had it done. The procedure itself was relatively painless and very quick. Just 2 days after the surgery it felt that my eyes had already healed. In the last 2 weeks since the surgery my sight has continued to improve and it is especially great not to have to wear my glasses or contact lenses anymore. Many thanks to Alfredo Ferrer and his team.

Lauren Howlett

ReLEx Smile
"It is very natural that operations of any kind involving the eye conjure up stress but the whole team at Clínica Alfredo Ferrer make it their job to ensure that a cataract operation is a totally stress free operation (and painless, of course). My sight has been fully restored as I could never have imagined. I am profoundly grateful as well and full of admiration for the skills and technology involved in this miraculous treatment. I cannot speak too highly of the whole Ferrer "experience". Bravo to Alfredo and his charming (multi-lingual) team that has renewed my sight in this way.

John G. Deacon, Jávea

Cataract Surgery
"Dear Mr. Ferrer; When you first told me about an Avastin injection in my eyes, I got a shiver. Now I have to say that my anxiety was fully unfounded. The whole procedure in the hospital in Alicante lasted only for 1 hour. In the operations room I got a sedation in my arm and waited for you to arrive. I heard some voices and thought "there comes Mr. Ferrer at last". As you appeared and told me everything was done, I could hardly believe it, since I hadn't noticed anything. Only I was hungry, because I was told not to have breakfast before the surgery, but had no pain at all. Thank you very much!

Ove M. Wittstock

Intravitreal Injection / Macular Degeneration
"It is now a week after my treatment for intraocular lenses implants with Dr Ferrer. I am amazed at the results. It has opened up a whole new visual world for me (69 year-old male). His clinic and staff are of the highest professional standard. His personal attention too, for me, was perfect. Back in September for a final checkup.

I would highly recommend a consultation with Dr Ferrer and his team. Worth it all the way.

Alexandre Hewetson, El Campello

Intraocular lenses
Would you like to send us your testimonial?
Write to us